WestJet announces new Dreamliner routes to Tokyo, Edinburgh and Barcelona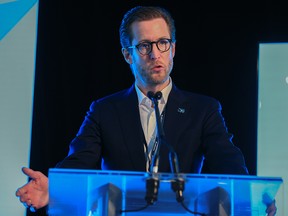 Article content
Next stop, Tokyo.
Article content
We apologize, but this video has failed to load.
WestJet announces new Dreamliner routes to Tokyo, Edinburgh and Barcelona
Back to video
WestJet will begin flying to Japan next spring, its first non-stop Asian destination from the Calgary International Airport, using its fleet of 787 Dreamliners.
Article content
The Calgary-based airline made the announcement Monday at a news conference while also unveiling Calgary routes to Barcelona and Edinburgh. It will also increase the frequency of flights between Calgary and Dublin, London, Paris and Rome.
Article content
Alexis von Hoensbroech, named WestJet's CEO in February, said the new route to Tokyo is largely about meeting the tourism demand for people coming to Alberta.
"It's going to put Calgary on an intercontinental landscape where Calgary has not been in the past," he said. "I think the benefit for Calgary is really fantastic."
Article content
The route will be three times a week to Tokyo's Narita International Airport beginning April 30, and will be Alberta's only non-stop flight to Asia.
It may not be the last. Von Hoensbroech said the company will continue to test the market and look at further expansion of its network.
WestJet is also launching its first direct route to Scotland from Calgary. The route to Edinburgh will be its fourth non-stop flight to the British Isles from YYC, and will go three times a week beginning May 17. Meanwhile, WestJet's routes to London-Heathrow and London-Gatwick will both be bumped up to seven times a week, and its route to Dublin will be boosted to five flights a week. The Heathrow flight remains the only year-round flight.
Article content
Von Hoensbroech said he was worried about so many routes to one small geographic region, but said the demand was there.
The direct trip between Calgary and Edinburgh will serve largely as a connecting flight. Von Hoensbroech estimated about half of the passengers will be destined for Edinburgh, with the rest catching a transfer.
Article content
Scotland's Minister of Transportation Jenny Gilruth said in a news release that nation is investing in this route to make it easier to connect with Canada and the west coast of the United States.
"It has the potential to create economic, social and cultural benefits, while also enhancing our international connectivity," she said.
WestJet has been flying to Barcelona from Toronto, and it has been a popular route. But with the consolidation of the Dreamliner fleet in Calgary, the route is being moved here.
Article content
Recommended from Editorial
The Barcelona route will go three times a week when it launches May 6, and von Hoensbroech said he expects it to do well.
"It's one of the strongest inbound markets into Europe, but it's also a strong market of people from Spain wanting to fly over the Atlantic," he said.
Article content
Premier Danielle Smith said at a news conference that the new flights will raise Alberta's profile among investors in key markets.
"We are seeing company after company choose to expand into our province and today's announcement will grab the attention of even more entrepreneurs and show them that Alberta is the place to be, and that WestJet is the way to get here," she said.
Despite expanding the workload of the 787 fleet, the CEO said there are no plans to expand it. The company announced June 17 that it was pausing further investment in the wide-body transcontinental plane, and confirmed in September it had cancelled a contract to purchase more Dreamliners. The original purchase order was for 10 with an option to buy up to 10 more.
Article content
This is part of the new strategy von Hoensbroech implemented in June, which saw a consolidation of the 787 fleet in Calgary as well as a focus on Western Canada and a realignment of regional flights. This strategy has also set up YYC to be the global connecting hub for the airline, a partnership with the province that could generate thousands of jobs and billions of dollars for the local economy over the next 10 years.
WestJet has since increased a purchase order for 22 Boeing 737 MAX airplanes to 65, with an option to order up to 22 more.
"We are not going to expand any further on the Dreamliner, at least for the time being — it's an opportunistic business," he said. "The expansion and the future sit with the narrow-body growth."
Twitter: