After the Attack: Man's harrowing account of being attacked by a bear still offering lessons about life, trauma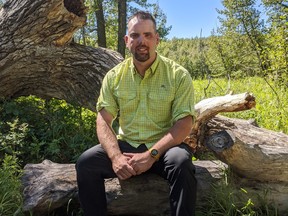 Reviews and recommendations are unbiased and products are independently selected. Postmedia may earn an affiliate commission from purchases made through links on this page.
Article content
The nightmares still come for Jeremy Evans.
Article content
We apologize, but this video has failed to load.
After the Attack: Man's harrowing account of being attacked by a bear still offering lessons about life, trauma
Back to video
But the Calgary man says they are now few and far between, a testament to the treatment he received for post-traumatic stress disorder to deal with the terror and anxiety linked to a series of devastating grizzly attacks in August 2017 when he was deep in the Alberta wilderness on a hunting trip.
Article content
It's a good thing he's getting past it. Because he has been revisiting those memories quite a bit as of late.
In late September, Rocky Mountain Books released Mauled: Lessons Learned from a Grizzly Bear Attack, which Evans co-wrote with former Calgary Herald editor-in-chief Crosbie Cotton. It placed the Calgary father-of-two, a former electrical contractor, in a strange new world of media interviews. Up until the release of the book, he had never shared his experiences publicly. He didn't grant interviews in the harrowing days following the attacks, which led to months of recovery and the unsettling realization that he might be dealing with the psychological after-effects for some time.
Article content
It's been two months since the book's release and Evans says he still averages two media interviews a week and is often asked to participate in podcasts. Among other things, Mauled includes Evans' gripping, first-person account of the attacks. But Evans says much of the ongoing interest in the book tends to focus on him dealing with the psychological after-effects.
"I get a lot of feedback on the PTSD and how to deal with that trauma," says Evans, in an interview with Postmedia. "In a lot of podcasts, people have read the story and are quite amazed that I've been able to go back out hunting again in the same area looking for sheep, confront bears, go bear hunting. A lot of the questions are about how I was able to do that and what did I see and what type of therapy did I get."
Article content
Smash hit book's first run sells out by mid-October
The book has been a hit for Rocky Mountain Books. Published in late September, it had sold out its first run by mid-October. A second run was also snatched up and the publisher is now planning a third as interest in the book starts to heat up in the United States.
Evans admits he was surprised and a little overwhelmed by the attention. He initially had to be convinced by Cotton that the story would have broad interest. The book has several layers. It is a tense, almost unbelievable story of survival but also delves into self-help territory, with Evans putting together what the experience has taught him. Some things, such as "setting small goals can lead to remarkable achievements," are directly related to his journey of survival in the wilderness. Others, such as "don't needlessly abandon your passions in life" are more universal and relate to Evans' miraculous return to hunting and enjoying the outdoors after overcoming fear and anxiety.
Article content
Still, there is no denying the visceral melodrama of Evans's account of the attacks and immediate aftermath. He had been scouting for hunting spots in August 2017 before the opening of bighorn sheep season when he was attacked by a grizzly who was protecting her cubs. He was attacked three times.
His skull was opened, a large part of his scalp removed and his neck damaged. One of his eyes was left dangling, as was his jaw. An ear was missing, although he didn't notice this until later. The tendons on one of his legs were severed. His hands were damaged. He was also deep in the wilderness and losing lots of blood. When he reached an abandoned camp, he wrote a letter. One was an apology to those at the camp, where he explained he had been attacked by a grizzly and was looking for a radio or satellite phone. Even more heart-rending are the texts he sent his wife. While there was no cell service, the texts were saved. Thinking about his wife and their then six-month-old daughter is likely what allowed him to power through until he was rescued, crawling close to 10 kilometres. Nevertheless, some of the texts reveal that he had doubts he would make it out of the wilderness. "I'm pretty sure this is the end," he wrote at one point. "If I do not wake up, I love you honey!! Take good care of the Monster."
Article content
While this chapter is certainly harrowing, it was surprisingly not the most difficult for Evans to put together. He kept a journal during his long hospital stay that chronicled the attack, jotting down notes whenever he would wake up from a nightmare. He would continue writing those entries for two-and-a-half years. This proved cathartic for him.
Wife's journal entries 'too close and hard for me to read'
But the book also contains journal entries that his wife wrote during his recovery. He says he still hasn't been able to read those in full.
"It's a little too close and hard for me to read," he says. "It brings up some really emotional times. I've read the majority, skimmed through them, but I haven't read it in complete detail because it's very hard."
Article content
Recommended from Editorial
In terms of his writing, the hardest part was to admit that he considered ending his own life with his gun while he was bleeding in the wilderness.
"Even now it's a little touchy," he says. "I had never told anybody that. I told my therapist. But when we put it in the book that was probably the hardest part, just putting that out there. That was the most emotional part for me."
Evans went through three extensive operations. He required 1,000 sutures and 1,000 staples. Doctors warned him that he likely wouldn't be able to return to work for a year. The psychological wounds were another matter.
Article content
The book recounts Evans's dramatic return to the scene of the mauling one year later, an emotional day for him. But he had also been accepted into the Accelerated Resolution Therapy, or ART, program at Foothills hospital, which focuses on reprogramming how memories and images are stored in the brain as a way to prevent them from triggering the emotional and physical reactions that cause nightmares.
Author on long path to healing
"A year later, it was pretty scary (to realize) it was going to be a lingering effect," he says. "Just trying to overcome that was devastating; just finding out that it was going to be an issue ongoing. We got it down to a point where it wasn't happening very often, it would come in waves. Working with a therapist we found the majority of the triggers and I was able to avoid certain situations or certain scenes."
Evans says he has been discharged from therapy. The nightmares haven't completely gone away. But they are not as powerful.
In August 2022, he and his wife returned once more to the site of the mauling.
"It still was pretty emotional," he says. "I was really cautious at any kind of sound. It triggered things, a little anxiety. But it felt good to be able to go back there and conquer it again."
Mauled: Lessons Learned from a Grizzly Bear Attack is now available from Rocky Mountain Books.