Hesson: Children's books for December 2022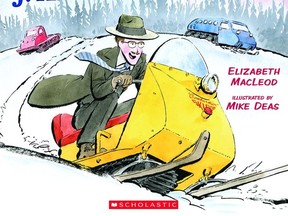 Reviews and recommendations are unbiased and products are independently selected. Postmedia may earn an affiliate commission from purchases made through links on this page.
Article content
We apologize, but this video has failed to load.
Hesson: Children's books for December 2022
Back to video
A is for Alberta
Article content
By Mindy Johnstone
(Summerthought)
This colourful alphabet book is all about Alberta. Children will learn their ABCs as they journey through the province visiting the places, landscapes, animals, festivals and sights that make up Wild Rose Country. An informative and fun rhyming read-aloud book, complete with fun facts about each destination at the back of the book. Young readers will spot familiar places and make discoveries.
Meet J. Armand Bombardier
By Elizabeth MacLeod, Illustrated by Mike Deas
(Scholastic Canada Ltd.)
Born in 1907 in Quebec, J. Armand grew up with a love of machinery and building. Transportation in the winter became his obsession. He studied science and, particularly, traction. He had many inventions that failed, but his big breakthrough came when he had to transport his sick son to the hospital. Afterwards, he created many forms of treads that could move through land and snow. In the late 1950s, he came up with the fun and favoured Ski-Doo. An interesting and informational Canadian biography.
Article content
A Ticket Around The World
By Natalia Diaz and Melissa Owens, Illustrated by Kim Smith
(Owlkids Books)
This little picture book takes readers on a journey to 13 different countries. Filled with bright illustrations, each country is described on two pages. After a short introduction, children will learn about language, customs, food, climate, and points of interest. We follow a young boy as he narrates his experiences and brings life to his travelling adventures. This is a great introduction for students who want to learn about the world.
Talk Santa to Me
By Linda Urban
(Atheneum)
This fun little rom-com is set all around Christmas. Twelve-year-old Francie lives on Santa Claus Lane and helps at the family business, Hollydale Holiday shop. As she desperately tries to dissuade her aunt from pursuing very non-traditional ideas for the store, she is also dealing with being teased about her first kiss. Francie very humorously narrates this story about friendship, families and love, while dealing with financial issues and grief. Teen readers will laugh along as they navigate Christmas and life with the sassy Francie.