Make memories with these special wines that make great consumable gifts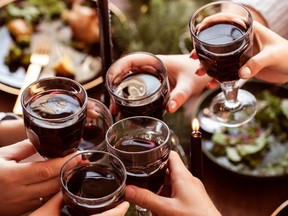 Reviews and recommendations are unbiased and products are independently selected. Postmedia may earn an affiliate commission from purchases made through links on this page.
Article content
I am a big fan of consumable gifts. Funny how that works when you love wine.
Article content
We apologize, but this video has failed to load.
Make memories with these special wines that make great consumable gifts
Back to video
In our household, a lot of our gifts involve nights out at new restaurants, excellent ingredients from local markets and top-notch bottles of wine and spirits. A shared experience over a terrific meal or bottle can make a lasting impression.
Article content
If you have a wine lover in your household, here are a few interesting wines that might put a smile on their face.
FOR THE WHITE WINE FAN
Giant Steps
2020
Chardonnay
Yarra Valley, Australia
Many people think of big red wines when you mention Australian wine, thanks to the hot climates of notable regions such as the Barossa Valley and McLaren Vale. But if you take a closer look, there are cooler regions and microclimates that are excellent for grapes such as pinot noir and chardonnay.
Article content
The Yarra Valley is one of these regions. Located in the state of Victoria, about an hour east of Melbourne in southern Australia, the Yarra Valley is known for cool climate wines. Giants Steps, founded in 1998, has a particular focus on single-vineyard chardonnays and pinot noirs. These limited-production wines are harder to find, but luckily the entry-level range offers higher quantities and impressive quality.
The 2020 Yarra Valley chardonnay, a blend of grapes from three of Giant Steps' single vineyards, is a vibrant wine with persistent lime, green apple and pear flavours, with a touch of vanilla. A very fresh style.
Price: About $43. Look for it at Willow Park Wines & Spirits and Wine and Beyond at Signal Hill.
Article content
Drink: In the next three to five years. Enjoy it with scallops, shrimp scampi or roast chicken. Screw cap; 13 per cent alc./vol.
FOR THE B.C. WINE LOVER
Ex Nihilo Vineyards
2020
Pinot Noir
Lake Country, Okanagan Valley, British Columbia
Former Albertans Jeff and Decoa Harder started Ex Nihilo, Latin for 'out of nothing,' in 2003 when they purchased land in Lake Country, the picturesque region along the northeast side of Okanagan Lake.
With experience in marketing and the beverage industry, they planted their vineyards in 2004 and began selling wines out of their house in 2006. It was one of the first Okanagan wineries I visited.
Since then, the couple, which added Mike and Janet Azhadi as co-owners in 2018, has built a popular stop on the region's Scenic Sip wine trail. The winery style is bold. They seek the pinnacle of ripeness before harvesting to squeeze every ounce of flavour out of the grapes.
Article content
This pinot noir reminds me a lot of the wines from Sonoma County in California, with rich, ripe dark berry and strawberry flavours, some wet earth and vanilla notes and delicious spice. It's a memorable bottle from a terrific pinot noir vintage in the Okanagan Valley.
Price: About $55. Look for it at Aspen Wine & Spirits, Bin 905, Britannia Wines, Crowfoot Wines and Spirits Signature and Springbank stores, Co-op Wines Spirits Beer, Safeway and Sobeys Liquor, Willow Park Wines & Spirits, Wine and Beyond and Zyn the Wine Market.
Drink: In the next five years. Try it with duck, beef Bourguignon or char sui pork. Cork; 13.3 per cent alc./vol.
FOR THE BIG RED LOVER
Double Canyon
2017
Red Mountain Cabernet Sauvignon
Washington State, United States
Article content
Red Mountain, the warmest and smallest American Viticultural Area in Washington State, is known for producing wines with a silky texture and wonderfully ripe tannins.
The region, located 3.5 hours east of Seattle, sits on a southwest-facing slope, which is perfect for extended ripening. A persistent wind from the southwest minimizes disease pressure while leading to smaller grapes with more intense flavours.
The Double Canyon winery, formed in 2007, is located in Horse Heaven Hills, another highly regarded Washington AVA. Using grapes from different spots in Red Mountain, this supple and powerful wine coats the mouth with ripe tannins and flavours of blackcurrant, blackberry, spice, plum and black cherry.
Article content
Dry and full-bodied, it is so refined you almost miss its powerful inner core of ripe fruit and plentiful tannins. It's a joy to drink.
Price: About $70. Ask for it at 4th Street Liquor Store and Wine Cellar, Cork Fine Wine, Liquor and Ale, Craft Cellars, Kensington Wine Market and Willow Park Wines & Spirits.
Drink: In the next eight years. Enjoy it with a grilled New York strip steak, braised lamb shank or a hard cheese such as manchego. Cork; 14.4 per cent alc./vol.
FOR THE SWEET WINE CONNOISSEUR
Taylor Fladgate
1970
Single Harvest Tawny Port
Douro Valley, Portugal
Tasting a wine more than 50 years old is a rare treat. Very few wines are even drinkable after half a century. But the single vintage tawny ports from Taylor Fladgate shine bright.
Article content
The storied port house, which began as Taylor's in 1692, has been producing tawny ports from wines of a single vintage for eight years now, releasing them at the 50-year mark. Tawny ports, which spend extended aging periods in oak barrels, are generally a blend of different years and locations. The single vintage series shows the characteristics of just one year. You can truly taste history. When you consider they also sold a tawny from 1896 — which was sublime — the half-century mark might even be young.
Medium amber in colour, the nose offers a potpourri of spices, nuts, dried fruits and vanilla. The sweet palate is luscious and vibrant, with caramel, raisin, walnut, orange peel, vanilla, white pepper and all-spice. It is supple, elegant and persistent, with a finish that coats the mouth for minutes.
Article content
A spectacular wine.
Price: About $285. Look for it at Co-op Wines Spirits Beer (select stores), Costco Liquor, Craft Cellars, Crowfoot Wine and Spirits Signature Store, Rocky Mountain Wine Spirits Beer, Wine and Beyond (select stores), Willow Park Wines & Spirits and Zyn the Wine Market.
Drink: In the next 10 years. Enjoy it with dried nuts and fruits, cheesecake or crème brulee. Cork stopper; 20 per cent alc./vol.
Contact Darren Oleksyn at dm.oleksyn@gmail.com or follow him on or . Looking for a specific wine? Because wine inventories are always in flux, it's a good idea to call a store to confirm they have it. A search on  can give you an idea of stores that have carried the wines.