A litter of puppies was the catalyst to an encounter which left a city man dead in a street, court hears
Dwayne Crazyboy said his brother was fleeing from Martin Wallace Yuen west down Memorial Drive S.E. when he was shot by John Edward Tabler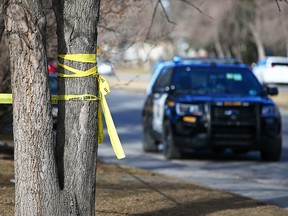 Article content
The brother of fatal shooting victim Jesse George said his sibling went to a southeast Calgary residence to pick up a litter of puppies.
Article content
We apologize, but this video has failed to load.
A litter of puppies was the catalyst to an encounter which left a city man dead in a street, court hears
Back to video
But Dwayne Crazyboy said when they arrived at the home of accused killer Martin Wallace Yuen, his brother was told he wasn't welcome there.
Article content
Under cross-examination by defence lawyer Rebecca Snukal, Crazyboy agreed that Yuen repeatedly told George to leave.
"The first thing you hear him say is something to the effect of, 'get the (expletive) out of my house, you're not allowed to be here?' " Snukal asked.
"Yes," Crazyboy replied.
"You just keep hearing him say that over and over and over again?"
"Yes," Crazyboy said.
But the witness said he was confused by Yuen's reaction to their presence, as he believed he and his brother had already discussed them picking up a litter of puppies from the home.
"That's the part I didn't get," Crazyboy said.
Article content
"I thought they talked about it."
Yuen is charged with manslaughter in connection with the shooting death of George.
His co-accused, John Edward Tabler, is charged with second-degree murder in connection with the March 27, 2021 incident.
It's the Crown's theory that Yuen provided the gun before Tabler intentionally shot George as he fled the residence.
Recommended from Editorial
Crazyboy said his brother was fleeing from Yuen west down Memorial Drive S.E. when he was shot by Tabler.
Article content
The witness agreed with Snukal that his brother initially refused to leave the residence, but he wasn't being aggressive.
"He wasn't going there looking for a fight or something like that," he said.
"Just standing his ground."
Crazyboy said George was just making sure they got the puppies before going home.
He acknowledged his brother pulled out a knife after they entered the residence that evening and sat in the living room.
"It was just a small pocket knife," Crazyboy said.
And George wasn't intimidated, even when he saw the rifle that eventually killed him.
"He wasn't scared by the gun?" Snukal asked.
"In my eyes, no, he didn't seem like it."
But he said regardless of his brother's intention for being in the residence, he didn't deserve what ultimately happened to him.
"No gun should ever have been involved. No one should have died that night," he said.
"He didn't have to use a gun."
Crazyboy said it wasn't necessary, even if the occupants of the home were intimidated by the pocket knife.
"There's an old saying, 'never bring a gun to a knife fight,' and we weren't there for a fight."
He said he didn't remember Yuen saying anything when he passed the firearm to Tabler.
Twitter: