Smith wants 'second opinion' in case of transplant patient who refuses COVID vaccine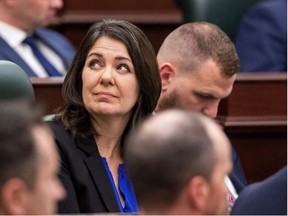 Article content
Premier Danielle Smith says she is seeking a "second medical opinion" in the case of an Alberta woman who has refused COVID-19 vaccination as a precondition for a major organ transplant — a move one health policy expert says is likely without precedent.
Article content
We apologize, but this video has failed to load.
Smith wants 'second opinion' in case of transplant patient who refuses COVID vaccine
Back to video
Annette Lewis, a terminally ill transplant patient, has court bids to be reinstated to the top of an Alberta Health Services transplant list.
Article content
Smith was asked about the case at a news conference Tuesday following the unveiling of her signature Sovereignty Act.
"I am seeking a second opinion on that particular case," she said. "I know that there is at least one other case as well.
"I've been pretty clear that we do not want to see discrimination against anybody on the basis of their booster status or their vaccination status. And I'm hopeful that the business community and other entities operating in this province have heard that message and will make sure to bring their policies into alignment with that objective."
Article content
She added: "The difficulty with transplant patients is that they do have a protocol they go through to determine who has the best likelihood of survivability. That's why I need to have a second medical opinion. I don't want to supersede that. So I'm very hopeful that we'll be able to get an opinion in a number of weeks.
Recommended from Editorial
Lorian Hardcastle, a University of Calgary professor specializing in health law and policy, said she was "very surprised" to see the premier weigh in on an individual's medical treatment.
Article content
"It would set, I think, a bad precedent, if we got into a situation where patients who had gone through the process with their doctors and with AHS, and weren't satisfied with what they were hearing, thought that they could make appeals directly to the premier to try to intervene in medical decisions.
"I think this idea that the premier would intervene on granular-level, individual medical decision-making is wholly inappropriate."
Lewis sued AHS after her treatment team informed her in March 2021 she would need a COVID vaccine to maintain her place on the top of the transplant list. While Lewis is up to date on her other shots, she refused to take the COVD vaccine, claiming it is "experimental" and a violation of her conscience rights.
Article content
The organ Lewis needs is covered by a publication ban to protect the identities of her treatment team.
Represented by the anti-mandate Justice Centre for Constitutional Freedoms, Lewis has lost both attempts at being restored to the queue.
In July, Court of King's Bench Justice Paul Belzil , dismissing Lewis's application and concluding "medical chaos" would ensure if doctors' clinical decisions were subjected to charter scrutiny.
Belzil also said there is "overwhelming evidence" that COVID vaccines are safe and effective, but stressed his decision did not hinge on that issue.
Lewis appealed to the Alberta Court of Appeal, which Belzil's decision last month.
Hardcastle was not sure what Smith hopes to gain from a "second" medical opinion, saying it is "a very basic requirement" for transplant patients to undergo a battery of vaccinations before surgery because of the immune-suppressing drugs they take to prevent rejection of the new organ.
Article content
A from Canadian transplant programs in support of pre-transplant COVID vaccination introduced at Lewis's hearing said there has been a 25-30 per cent mortality rate among patients infected with COVID post-transplant.
Hardcastle said even if Smith finds a doctor who supports Lewis's position, it is unclear why she thinks that person's opinion should trump Lewis's treating physicians, or the expert evidence already weighed by the courts.
The government could potentially intervene if Lewis is granted leave to appeal to the Supreme Court, bring legislation governing the requirements for organ transplants, or issue a binding directive to AHS, Hardcastle said.
However, "this would be such a granular issue to do that on, I think it would be unprecedented."
Lewis's lawyer did not respond to a request for comment.
Smith has said her government will introduce legislation to protect the rights of unvaccinated people, but has not .