UCP caucus votes to propose changes to Alberta's controversial sovereignty act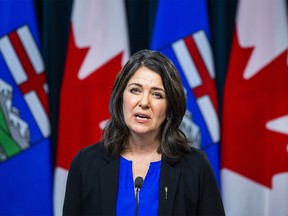 Article content
Alberta's UCP caucus voted Monday morning to propose changes to Premier Danielle Smith's sovereignty act, aiming to quiet concerns about the bill granting cabinet the unilateral power to rewrite laws.
Article content
We apologize, but this video has failed to load.
UCP caucus votes to propose changes to Alberta's controversial sovereignty act
Back to video
Smith confirmed on Saturday during her radio talk show that changes were on the way to the controversial Bill 1, the Alberta Sovereignty within a United Canada Act, first
Article content
In a news release Monday, UCP caucus revealed the details, saying one amendment would clarify that cabinet can't make changes unilaterally behind closed doors without first going back through the legislature.
A second amendment will more narrowly define what harms are addressed under the act. They must be related to federal initiatives that, in the opinion of all MLAs, are unconstitutional, affect or interfere with Alberta's constitutional areas of provincial jurisdiction, or interfere or violate the charter rights of Albertans.
Article content
During question period in the legislature Monday, Smith said she was grateful to take suggestions for changes from her caucus, and admonished the Opposition NDP for refusing to try to work to make the bill better, including by proposing amendments.
"I don't think that the leader of the Opposition is approaching this in good faith. My caucus is. My caucus identified some issues that they wanted to address. They wanted to seek some clarity, and that's the kind of leader I am — I want to make sure that we get this bill right," said Smith.
Recommended from Editorial
After the Calgary Chamber of Commerce and the Canadian Association of Petroleum Producers have warned against the bill, Smith also accused them of not reflecting the feedback of their members.
Article content
"Neither the head of the chamber nor the head of the CAPP consulted their members because I have been getting dozens of calls," said Smith.
It's unclear when the amendments will be introduced, but the bill is set to be debated in second reading Monday evening. Government house leader Joseph Schow limited that stage to one hour, meaning the bill could swiftly make its way to the next stage of debate that allows for amendments to be introduced.
The bill as originally written pledges to give Alberta the power to direct provincial agencies to act against federal laws it considers unconstitutional or harmful to Albertans.
Under the first draft, if a non-binding resolution is passed by MLAs, it would give cabinet the power to change provincial laws without going back to the legislature.
Article content
The so-called Henry VIII clause was and the act constitutionally problematic by critics, including constitutional experts, who said it would give the premier and her ministers sweeping power without proper legislature oversight.
Smith and her cabinet ministers were defending the bill last week, denying it would give cabinet the power to unilaterally alter legislation behind closed doors, and accusing the NDP of fearmongering.
Premier has lost trust due to 'bumbling and stumbling': Notley
For her part, NDP Leader Rachel said in the legislature that Smith has changed her characterization of the bill from denial to admitting it has problems.
"She's lost people's trust with this bumbling and stumbling, so now her bill is beyond saving. Why won't she just withdraw it?" said Notley.
Article content
"I honestly think that this is an act in process of being written, and the conversation going on now between the UCP caucus and the premier is a conversation that should have happened before it was introduced, and the market saw it and investors saw it and opinion leaders all across the country saw it. It is a mess," said Notley.
At an unrelated news conference Monday, Justice Minister Tyler Shandro was asked multiple times by reporters what went wrong with the drafting of a bill that it needed to be significantly changed so quickly after being proposed.
"I'm not going to characterize it as a mistake," Shandro said, also citing caucus and cabinet confidence.
"I think that there was a first draft of the bill, and obviously there are a lot of questions about it even at the press conference here in this room, just last week. Folks have questions, and they're asking for clarity, and we're taking that feedback," he said.