Opinion: Still too few female engineers, but it's not for lack of interest
Women are not the problem. The problem: everyone who keeps saying that women are the problem.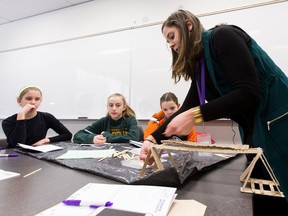 Article content
It has been 33 years for one reason: because they were women. It is our responsibility as a society to be sure that their deaths were not in vain, that we continue to learn from what happened, that we and ask ourselves, consistently, how we can turn their sacrifice into something deeply meaningful.
Article content
We apologize, but this video has failed to load.
Opinion: Still too few female engineers, but it's not for lack of interest
Back to video
Around the time of the Polytechnique massacre, engineering had a problem: too few women and, consequently, too few engineers altogether. University programs reported female enrolment consistently below 20 per cent. The number of women entering the profession after graduation was even lower, and the number of those who remained for long-term careers, lower again. The massacre was a stark reminder to women: you are not welcome here.
Article content
More than 30 years later, surely, much has changed. Surely. That's the ongoing narrative within Canadian society, or at least the engineering schools and professional orders. We read about women breaking barriers, being strong, achieving great success. Women mentor other women, help them navigate the complexities of a profession dominated by men. There are working groups, support groups, conferences, workshops. Surely, it's working!
Article content
Engineers Canada launched the 30-by-30 program, encouraging the professional orders, the universities, companies, to push toward 30 per cent women in the profession by 2030. They provide guidelines to companies on how to hire and retain more women, to universities on how to make their programs more attractive to women, push primary and secondary educators to wheel more women into the sciences. There's a problem here, they seem to say: women aren't interested, so we need to fix that.
But suppose we take a class of a six-year-olds (no older) and see what interests them. See who gravitates toward the counting games, the beaker, the Lego set. Do we honestly think that only 20 per cent of that group will be girls? Or can we safely say that the split will be equal. Because honestly, gender has nothing to do with what we, as individuals, are passionate about. Our gender is simply something that society eventually appropriates, to dictate what we may or may not like, may or may not be capable of.
Article content
The 30-by-30 program is struggling. Female representation in engineering still hovers around 20 per cent; little progress has been made. All sources suggest that the problem is women: they are simply not interested enough in engineering, they are simply not aware of what the profession has to offer, they are simply more interested in other things; women need help! Women need more role models, women need to see more women succeed, women need to talk to other women. Yes, that'll fix it.
But no. It hasn't. And it won't. Because the problem is not women. Women are not the problem. Women, just like men, are interested in engineering things, are interested in working on construction sites, are interested in designing high rises, are interested in building planes. Women, just like men, are interested in all that engineering has to offer. Women are not the problem.
Article content
The problem: everyone who keeps saying that women are the problem. Everyone who worries that having more women in a male-dominated profession might somehow damage the profession, might somehow "feminize" the profession. Engineering is not a profession owned by men. It's not a profession that women need to earn the right to get into, to somehow change who they are to be accepted, to tackle the never-ending to-do lists of change, a list drafted by men.
No. Women. Are. Not. The. Problem. Once we all realize this, we can then get down to that were built upon the outdated notion that men are engineers, and women are not.
Gwyneth Edwards is an associate professor of international strategy, at HEC Montreal. She was a student at McGill University in engineering in 1989.
Recommended from Editorial