Juuso Valimaki happy to get a fresh start in Arizona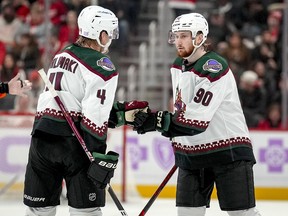 Article content
Juuso Valimaki needed a fresh start.
Article content
The end of his time with the Calgary Flames was tough. Playing time was hard to come by and by his own admission, Valimaki's confidence was low.
Article content
In early October — only five years after the defenceman was picked in the first round, 16th overall, in the 2017 NHL Draft by the Flames — Valimaki's stint in Calgary officially ended and he got his fresh start with the Arizona Coyotes when they claimed him off the waiver wire.
Returning to the Scotiabank Saddledome on Monday for the first time with his new team, Valimaki spoke openly about how much the move has benefited him.
"I think it's helped a lot," the 24-year-old said. "I just think things were not working the way they were in Calgary (at the time) and for a little while there, so just had to start fresh.
Article content
"I think it helped me and I can see it in a big way, just playing these games. I think I've found my game again in a way that I didn't really play at that level in a while here in Calgary. So yeah, I just think it's helped me and I'm happy now."
Valimaki stopped short of criticizing anyone in the Flames organization. Instead, he focused on the positives he's experiencing with the Coyotes.
He didn't hide that there were some tough times in Calgary, though.
After breaking through in 2018-19 and playing in 24 games, a bad knee injury forced Valimaki to miss the entire next season.
When he returned to the Flames for the COVID-impacted 2020-21 campaign, Valimaki seemed to find his place on an underperforming team coached by Geoff Ward.
Article content
When the Flames brought Darryl Sutter back for his second stint as bench boss, though, Valimaki's play was put under the microscope.
Then, last season, he played in seven games in October, but only two more after that.
"I can't really speak about it, I think every player has a little bit different opinions about things," Valimaki said. "I think at the start of the year last year when I played however many games, I think I was playing pretty well and it was a little bit of a surprise to all of a sudden sit for weeks and not play a game again.
"Was definitely not too much fun, but like I said, right now I'm happy and enjoying hockey and that's all that matters."
Again and again, Valimaki stressed how much he was enjoying his time with the Coyotes. He's played in 18 games this season, averaging 17:07 of ice time and has a goal and five assists.
Article content
That the Flames lost a first-round draft pick on waivers only five years after he was selected is less than ideal, and Valimaki proving he can contribute on a day-in, day-out basis only makes the way he left Calgary see even more troubling from an asset-management standpoint.
But Valimaki isn't the same player today that he was when he left.
His confidence was low when he left Calgary, and the Coyotes have gone out of their way to build it back up.
"I don't really like comparing (the two organizations) too much, but like I've been saying, just the positive start, talking to people and them encouraging me, trying to pump my tires in a sense that 'You're a good player, we want to help you, we see a lot of potential in you,' that helped a lot," Valimaki said. "I think that part of it kind of wasn't present as much here, especially towards the end when you don't play much or you don't play necessarily the way you want or someone else wants out of you. Then you don't talk about the positives as much, and I'm a guy who feeds off the positive energy instead of the negative one, so that start here and then obviously playing, so everything's more positive in my mind."
Article content
The Coyotes are certainly happy with the player they got. They're a young team which isn't going to win a tonne of games this season, but they've got ice time available for a young guy like Valimaki and have been thrilled with the way he plays.
"It's huge. He's a young, talented defenceman and one of the things I like about Vali is he's courageous," said Coyotes head coach Andre Tourigny. "He's not afraid to take the hit. He wants to make plays. He's got a lot of swagger in his play with the puck. And he competes really hard defensively.
"For us to give him a chance to develop, to play more minutes … he played as a young player and then after injuries and all other reasons, that team was peaking for a championship, so he got put on the side and we had the opportunity to give him a chance. He took it and he's doing a really good job for us."