SNAPSHOTS: Kadri snaps out of slump, Flames scratch past Coyotes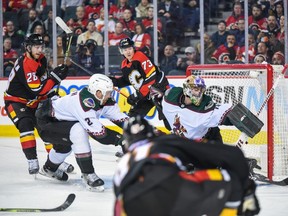 Article content
Nazem Kadri was due.  
Article content
We apologize, but this video has failed to load.
SNAPSHOTS: Kadri snaps out of slump, Flames scratch past Coyotes
Back to video
He busted out of his slump with a timely tally.  
Article content
Kadri capped a three-point night with Monday's game-winning goal, capitalizing on a late power-play opportunity to lift the Calgary Flames to a 3-2 victory over the Arizona Coyotes in a snoozer at the Saddledome.  
"It's nice to finally see it hit the back of the net," said Kadri, who snapped an eight-game goal drought when he polished off a sweet feed from Tyler Toffoli. "There was a little frustration starting to seep in. I felt like I had some great opportunities over the last lots of games. It was a matter of time before it came."  
The Flames' power-play was due, too.  
They delivered against the Coyotes, cashing a couple. Elias Lindholm was also in on that fun.   
That's an encouraging development since the special-teamers had mustered only two man-advantage markers in their previous seven outings.  
Article content
"In this league, it's tough to win. And if you don't have a good power-play, it's even tougher," Lindholm said. "Tonight, I thought our power-play won us the game. We have to be better and keep building on this and help our team win more games."   
This was a sleepy start for the locals, but Dan Vladar was sharp in the early stages especially — another solid effort from the backup as Jacob Markstrom works to rebuild his confidence — and his pals popped for a pair of goals prior to the first intermission.  

At the tail-end of a momentum-turning shift from the second line, Dillon Dube managed to get a piece of Chris Tanev's shot from the point, fooling Karel Vejmelka with that deflection.  
Less than three minutes later, after Jack McBain was busted for hooking, Lindholm polished off a broken play at the doorstep. Kadri fanned on his attempted one-timer but the puck found Lindholm at the post for a gimme. Kadri still earned the assist, just like he had on Dube's opening strike.    
Article content
Coyotes defenceman Shayne Gostisbehere whittled the lead late in the second, firing through a mess of traffic, and Jakob Chychrun evened things up with a short-side snipe — a laser-beam over Vladar's right shoulder — in the third.  
With five minutes remaining, though, Chychrun spilled Adam Ruzicka to the ice with the ol' can-opener. He was squirming in the sin-bin when Toffoli teed up Kadri for a rip from the right circle.  
The Flames' power-play has now nudged up to 20% on the season, although they still rank in the bottom-third in the NHL. 
"I think we just have to relax out there and make plays," Kadri said. "We're great players so just help each other out, get open, puck movement, staying aggressive, retrieving pucks … All those are a good formula for a power-play, and it was nice to see that come to life tonight." 
Article content
"You just have to stay with it, not get frustrated and continue to try to work to improve and find areas of your game you can strengthen. I feel like a few games, our penalty-kill has done a great job of bailing us out. It was about time our power-play did the same thing." 

ME, WORRIED?!?  
Midway through the question, Flames bench boss Darryl Sutter was already shaking his head, indicating the answer was a no.  
Sutter was asked after Monday's morning skate if he was concerned about Markstrom's public admission that his confidence is currently shot. The workhorse goaltender has watched two straight games since this scathing soundbite last Thursday: "I just suck at hockey right now."   
"Not a chance. Not a chance," Sutter replied. "I talked to them guys about that. I trust our goalies. That's the best position we have on our team, that's for sure. And saying that, that's just because Marky came out and said it, right? If you look at it the last two weeks, our goals-against went from 30th to 13th, so keep making progress."    
Article content
Vladar made 18 saves against the Coyotes, none better than a terrific toe on Christian Fischer with just over a minute remaining.  
The 25-year-old continues to buy time for both his buddy and his team. It's tough to reset your marquee man if the backup can't hold the fort for a while.  
"If we don't get on the first page of goals-against, the first page of save percentage, then we won't make the playoffs," Sutter said prior to puck-drop, stressing he needs results from both of his masked men. "We are moving that way. That's the big picture."   

OFF THE GLASS  
If not for Kadri's go-ahead goal, Monday's big story might have been a lousy third for the locals. They managed just four shots on net in the final stanza … The Flames have won three of four so far on this five-game homestand, improving to 12-10-3 on the campaign. "If we want to take the next step and climb into a playoff spot, we need to put a couple together," Lindholm said. "We can't just be around .500 all the time and lose one, win one, lose one, go that way. We have to put a couple together here. Obviously, tonight wasn't our best performance, but we got the two points and we'll be better next game." Jonathan Huberdeau, who assisted on both power-play goals, seemed to agree with that assessment: "For sure it wasn't pretty, but I think it's good for confidence to get a winning streak going at home." … Since snapping out of a 16-game scoring funk, Dube has four goals in an eight-game stretch … Next up for the Flames is Wednesday's meeting with the Minnesota Wild (6 p.m. MT, Sportsnet West/Sportsnet 960 The Fan) … Juuso Valimaki, who played parts of three seasons at the Saddledome before being plucked off the waiver-wire by the Coyotes in October, was facing his former teammates for the first time. The 24-year-old defenceman was greeted with a warm applause when acknowledged by the public-address announcer during a TV timeout … The Calgary Hitmen were busy Monday distributing the 20,294 stuffed toys that were tossed on the ice during their annual Teddy Bear Toss. Put another way, that's 20,294 smiles this holiday season. Awesome.  
Twitter.com/WesGilbertson