WORLD CUP: Neymar returns to lead Brazil to dominant victory over South Korea
Brazil put on a show in the game, scoring four goals in the first half, with the return of star Neymar to the field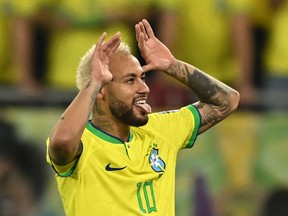 Reviews and recommendations are unbiased and products are independently selected. Postmedia may earn an affiliate commission from purchases made through links on this page.
Article content
DOHA, Qatar — Perhaps it was a fitting end to a memorable stadium.
Article content
We apologize, but this video has failed to load.
WORLD CUP: Neymar returns to lead Brazil to dominant victory over South Korea
Back to video
In the last game ever to be played here at Stadium 974, Brazil rolled to a 4-1 win over South Korea in a venue made partially of shipping containers and to be disassembled following the 2022 FIFA World Cup.
Article content
The 44,000-seat venue was more a work of art than a stadium and hosted seven games at the World Cup along with a handful of games at last year's Arab Cup.
Brazil put on a show in the game, scoring four goals in the first half, with the return of star Neymar to the field, and then took their foot off the pedal in the second.
They even substituted their third-string goalkeeper as Weverton replaced Alison with 10 minutes to go in the contest, shortly after Korea scored a consolation goal.
"I'm very happy to be back on the field and I'm happy to have played well," Neymar said. "Being the man of the match, to me, is difficult because everyone played really well. We needed the best out of all our players and we're very happy with our performance. That's what we wanted, we wanted to win and move on to the next round and that's what we got."
Article content
Vinicius Jr., Neymar, Richarlison and Lucas Paqueta scored for Brazil inside of the first 36 minutes, quickly putting to rest any question of the outcome. Brazil will face Croatia in the quarterfinals. Croatia knocked off Japan in a penalty shootout earlier in the day.
"We were focused on being balanced, because I thought if we didn't have a balanced attack, we might lose the game," said Brazil head coach Tite. "We wanted our players to have a good performance with and without the ball."
Paik Seungho scored with a rocket in the 76th minute to give the boisterous South Korea fans behind the net something to cheer about.
The Koreans had done well to get to this point, finishing second in Group F behind Portugal, defeating Cristiano Ronaldo's team with an extra-time goal, which eliminated Uruguay on goal differential.
Article content
"This is going to sound strange, but I didn't think we started that badly, based on the strategy we had both offensively and defensively," said Korea's Portuguese head coach Paulo Bento. "We didn't want to press Brazil too much; we know they have a lot of quality on their team and can play through you when you try to pressure them.
"We decided to try and defend lower and to be closer together and then to start counter-attacks. I thought it wasn't too bad early, we were going to look for spaces and opportunities on the break that they left as their two centre midfielders pushed forward."
Brazil opened the scoring seven minutes into the game when Vinicius Jr., took a cross-box pass from Neymar at the corner of the penalty area, held it … held it … held it … and then slotted it into the top corner past Korea goalkeeper Kim Seung-gyu.
Article content
Neymar put Brazil up 2-0 six minutes later, converting a penalty kick past Kim, on what was a pretty soft call. In typical Neymar fashion, he danced up to the ball before gently stroking it past Kim, who was leaning the other way.
Richarlison then added a third a half hour in, finishing off an outstanding passing move at the top of the penalty area, which appeared to mesmerize South Korea.
Paqueta scored on a similarly silky-smooth move seven minutes later to put Brazil up 4-0 and turn up the volume in the stadium washed in canary yellow jerseys.
With the game in hand, Brazil took its foot off the pedal, although they still pushed forward looking for a fifth goal. The Brazilians had a number of chances, but their finishing was not as sharp as it had been in the first half.
Article content
The Koreans, too, had a handful of chances before breaking through.
"I think it was a very good performance, that was the best 45 minutes that we've played in a while," Richarlison said. "We're happy because we played well and I think that was the most perfect half we've played so far in this tournament."
Without anything to lose, the Koreans pushed forward in the second half, urged on by their captain and Tottenham Hotspur star midfielder Son Heung-min. Playing with a mask to protect a damaged orbital bone, Son was the centre of every attack, but Brazil swarmed him every time he touched the ball.
It was substitute Paik, however, who wrecked the shutout, hammering a half volley from the top of the penalty area past Allison.
Article content
Neymar went on to play 80 minutes of the game before being replaced by Rodrygo. Neymar missed Brazil's final two group games nursing a sore ankle, which he injured in the opening game against Serbia.
"I did not feel any pain on my ankle," Neymar said. "I was pretty happy with my performance, but I think we can always improve and that's what we all have to keep doing. I can't just be satisfied with the game we had today, we have to aim for more and we need to grow as a team."
 Postmedia's soccer expert Derek Van Diest is on the ground in Qatar to cover every kickoff of the 2022 FIFA World Cup.  and get access to all his coverage.
Recommended from Editorial