WORLD CUP NOTES: Cristiano Ronaldo gets a talking to from coach
Santos was critical of his star player, who wasn't impressed with being substituted in the 65th minute of a 2-1 loss to South Korea on Friday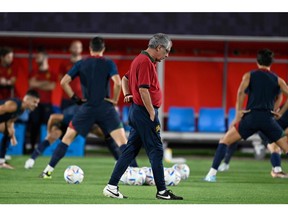 Reviews and recommendations are unbiased and products are independently selected. Postmedia may earn an affiliate commission from purchases made through links on this page.
Article content
DOHA, Qatar — Cristiano Ronaldo may be one of the best players of all time, but it's Fernando Santos who is in charge of Portugal, not the other way around.
Article content
We apologize, but this video has failed to load.
WORLD CUP NOTES: Cristiano Ronaldo gets a talking to from coach
Back to video
Santos was critical of his star player, who wasn't impressed with being substituted in the 65th minute of a 2-1 loss to South Korea on Friday. Portugal had already qualified for the next round with wins against Ghana and Uruguay in its first two games.
Article content
Ronaldo looked upset after seeing he was being substituted, then walking off and got into an argument with a Korean player.
"Let's split this answer in two," Santos said when asked about it Monday. "Right after the match, I spoke in the flash interview and then went to the press conference, and there I said something I'll repeat here: On the pitch, I didn't hear anything, I was too far and this is why I only saw him arguing with a South Korean player and nothing else.
"Have I already watched the footage? Yes. I didn't like it, didn't like it at all. From there, those are things you sort out internally. It was sorted out this way and now we are thinking about the game tomorrow. Everyone is focused on the game."
Article content
Portugal faces Switzerland in the final Round of 16 game Tuesday (2 p.m. ET, TSN) at the Lusail Stadium north of here. The winner will face either Morocco or Spain in the quarterfinal.
Santos has been in charge of Portugal since 2014 and coached Portugal to a European championship in 2016 with Ronaldo carrying the side to the final against host France. Ronaldo was hurt early in the final and had to be substituted, but Portugal still managed to upset France, who went on to win the World Cup two years later.
Santos would not divulge if Ronaldo will start against Switzerland and if he would wear the captain's arm band, but it's unlikely he will bench his best player.
"I only tell the team who will play in the dressing room," Santos said. "When we're in the stadium, they find out about the team and they know that. It's been like this since I arrived. I will start the team that I think should play.
Article content
"It's what I've been doing my entire life. I'm OK with myself, I have no problem. I stay with my conscience. Maybe after the match I reflect on it that I might have taken a different decision, but it's been like this since I arrived in 2014. I only think about what's good for Portugal and the national team, and the (Ronaldo) topic is done, we sorted it out internally."
Ronaldo, 37, is playing in likely his final World Cup. He is currently without a club as he and Manchester United announced they had parted ways just prior to the tournament. He is rumoured to be heading to Saudi Arabia in a multi-million dollar move.
"I didn't speak to him about that," Santos said. "This morning, I spoke to the players, but we didn't talk about this. I didn't know anything about this topic, to be fair. When I arrived here (at the news conference) someone told me about the news.
Article content
"But I don't know anything. It's his decision, it's his matter, not ours. Cristiano is 100% focused on the World Cup and on helping the team. That's his focus right now — about other situations, I don't know anything."
SPAIN GETS HOMEWORK
Spain head coach Luis Enrique wants his players prepared for a penalty shootout in the knockout stages, so he gave his players homework at a previous camp prior to coming to Qatar.
Spain faces Morocco at the Education Stadium (10 a.m. ET, TSN) on Tuesday in the Round of 16.
"I imagine our players have done their homework. Over a year ago, in one of the Spain camps, I told them they had to get here with at least 1,000 penalties taken," Enrique said Monday. "If you wait until getting here to practise penalties ,,, It's a moment of maximum tension, a time to show your nerve and that you can shoot the penalty in the way you have decided, if you have trained it a thousand times."
Article content
Spain was eliminated in the semifinal of Euro 2020 by Italy on penalty kicks. Spain finished second in Group E here at the World Cup after a surprised defeat to Japan in its final game, which also eliminated Germany.
"It says a lot about each player. It's trainable, manageable, how you manage the tension," Enrique said. "It's increasingly less luck, the goalkeepers have more influence. We have a very good goalkeeper, any of the three can do very well in this situation. Every time we finish training, I see a lot of players taking penalties."
Recommended from Editorial
MOROCCO LOOK FOR ANOTHER UPSET
Morocco made it to the second round of the World Cup for the first time since 1986 with its 2-1 victory against Canada in the group stage.
Article content
The win sparked massive celebrations in Morocco — the first time ever a win in soccer against Canada had that effect.
In order to put themselves in a position where a win against Canada would put them through, Morocco had to defeat Belgium in its previous game.
Belgium was a favourite to contend for the World Cup title, but crashed out of the first round, with its only win coming against Canada.
"It's incredible to see how people are living this with us, and that energy transmits a lot to us and gives us strength to continue and look to do great things," Morocco right back Achraf Hakimi said. "Spain is a top-five team and always come to the World Cup to win, but our coach has also taught us to have a winning mentality, that it doesn't matter who we are up against, we are going to play our way and try to beat them.
"We finished first in the group and I think we deserve a little respect. I think that Spain knows that and that they have to be a little afraid of us. Why can't we pull off a surprise again?"
Email: dvandiest@postmedia.com
On Twitter: @DerekVanDiest
Postmedia's soccer expert Derek Van Diest is on the ground in Qatar to cover every kickoff of the 2022 FIFA World Cup.  and get access to all his coverage.
Looking for some World Cup-related merchandise? Our Shopping Essentials team has  — no matter what team you support.